Nebraska Minor League Baseball
Western League 1953 Lincoln & Omaha
The Western League was a class "A" league in 1953. In 1953 the Pacific Coast League was classified as an "Open" league in anticipation of it becoming a third major league. Of course the moves of the Dodgers to Los Angeles and the Giants to San Francisco stopped the move of the PCL to major league status. There were two "AAA" leagues, two "AA" leagues and four class "A" leagues in 1953.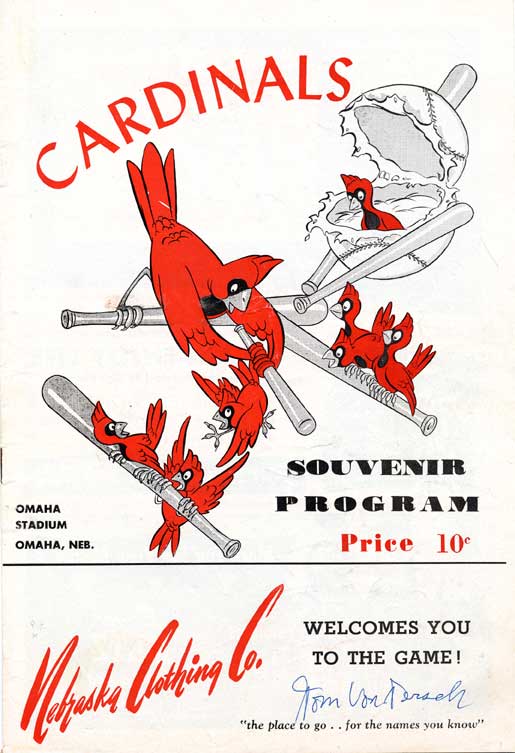 Western League 1953 Standings
President: Senator Edwin C. Johnson
Standings
Wins
Losses
Games
Back
Affiliation
Attendance
Manager
Colorado Springs Sky Sox
95
59
--
Chicago White Sox
141,117
Don Gutteridge
Denver Bears
94
60
1
Pittsburg Pirates
322,128
Andy Cohen
Pueblo Dodgers
78
77
17 ½
Brooklyn Dodgers
103,878
George Pfister
Des Moines Bruins
77
78
18 ½
Chicago Cubs
98,972
Kemp Wicker
Omaha Cardinals
74
80
21
St. Louis Cardinals
115,512
George Kissell
Lincoln Chiefs
71
83
24
Milwaukee Braves
87,615
Lou Finney
Sioux City Soos
70
84
25
New York Giants
45,412
Ray Mueller
Wichita Indians
58
96
37
St. Louis Browns
68,683
Mark Hausmann

---

Des Moines beat Colorado Springs 3 games to one.
Denver beat Pueblo 3 games to 0.
Des Moines beat Denver in the finals 3 games to 1.

---

BA: Kent Pflasterer, Pueblo, .350
Runs: Len Johnston, Colorado Springs, 133
Hits: Glen Gorbous, Pueblo, 204
RBI's: Jerry Crosby, Colorado Springs, 115
HR's: Jerry Crosby, Colorado Springs, 25
Wins: Norman Brown, Lincoln, 21
SO's: Karl Spooner, Pueblo, 198
ERA: Walt Montgomery , Omaha, 2.43
Omaha
Pitching was a strong point for Omaha in 1953 as Walter Montgomery led the Western League with a 2.43 ERA and future major league all star Lawrence Jackson had a 2.44 ERA. Hitting was below average as Omaha was 5th in the league in average and had only one batter above .300 for the year.
Roster based on Spalding Guide for 1954 and program from the 1953 season.
Roster:

Infield:
Prentice Browne, a lefty from Peekskill New York played for Hamilton in 1952 and averaged .344. He played first base for 80 games and averaged .293 for the year.

Earl Weaver returned to Omaha for the 1953 season at second base. He averaged .243 for the season.

Herbert Mancini played 66 games at third in 1953 and averaged .232. The infielder from Youngstown Ohio played for Lynchburg in 1952.

Miguel Rivera played 81 games at third and averaged .267. He was from Coama Puerto Rico.

Robert Rooney was a regular at Winston Salem in 52. Many of the Omaha players had played in Winston Salem before coming to Omaha. He averaged .276 in 39 games.

Hector Mayer averaged .228 as a regular at short stop in 1953.

George Kissell was the manager for the Omaha team in 1953. He took Omaha to the Western League crown in 1951 after leading Winston Salem to a pennant in 1950. Signed by the Cardinals in 1940 he played in the majors for ten years. He was a manager, coach, coordinator and instructor for the Cardinals and is a fixture in the Cardinals organization.
Outfield:
Eugene Faszholz was a lefty from Berkeley California. He played in the outfield and at first base in 1953 and averaged .267. He was in the Army in 1952 during the Korean conflict.

James King averaged .328 for Fresno in 1952 which earned him a promotion to Omaha in 1953. The 20 year old from Elkins Arkansas averaged .280 as a regular in the garden. He made his major league debut in 1955 with the Cubs and played in the majors for eleven seasons.

Andrew Jackson Lee averaged .373 at Johnson City in 1952 which earned him a promotion to Omaha. The garden tender from Jackson Alabama averaged .254 in 150 games for Omaha in 1953.

Russell Rac led the Cardinals in batting in 1953 with a .302 average in 126 games

Catchers:
Harold/Louis Smith returned to Omaha for the 1953 season. The masked man from Barling Arkansas was the regular catcher for Omaha in 1953 and averaged .215. The program calls him Harold, the Spalding Guide calls him Louis.

William Hinson from Candler North Carolina, played in Tucson in 1952 and averaged .293. He caught 12 games for Omaha in 1953.

Pitchers:
Walter Montgomery returned to Omaha in 1953. The lefty who spent his off season in Leavenworth Kansas led the Cardinals in wins. He led the Western League in pitching with a 2.43 ERA. He pitched in 37 games and had a 13-9 record. He had 135 strike outs in 196 innings.

Thanks to the generosity of Walter's brother Gary, here are some stories by Walter during his time in the minor leagues.

Stan Musial and Enos Slaughter

Hoyt Benedict from Altus Oklahoma was 3-4 in 26 games. He was in the army in 1952 and was assigned to Omaha for the 1953 season.

Louis Ciola was 7-4 in 42 appearances. He also averaged .258 at the plate for the Cardinals.

Eugene Swinger appeared in 23 games and had a 4-8 record.

Melvin Greer appeared in 19 games and was 3-8.

Paul Doughty was 1-4 in 25 games.

Paul Dewey from Geneva Alabama, was 13-8 in 44 games.

Robert Heins from Gorham Illinois appeared in 25 games and was 3-3.
---

Major League All Star

Lawrence Jackson was signed in 1951 as an amateur free agent by the St. Louis Cardinals. He played in Pocatello in 1951. His record of 28-4 in 1952 while playing for Fresno earned him a promotion to Omaha for the 1953 season. The Nampa Idaho native had a 2.44 ERA for Omaha with a 10-9 record in 22 appearances. In 1954, he played for Houston and Rochester. He made it to the parent Cardinals in 1955, was a major league all star four times and pitched through the 1968 season.

---

Tony Stathos , a lefty from Sacramento California, managed a 9-8 record in 33 games.

Topps 1956
Photoshopped :-)
Nebraska Minor League Baseball Home