Clarence Mitchell Baseball Field
Aurora Nebraska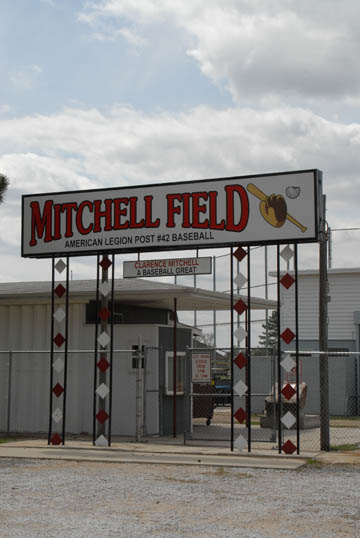 Clarence Mitchell was born in Franklin Nebraska. He started his professional career in the Nebraska State League with Red Cloud in 1910 after playing town ball for Alliance in 1909. He made his major league debut in 1911 and pitched for six different teams over his 21 year career. He was one of eight pitchers who were allowed to continue to use the "spitball" after it was made illegal in 1920. After his professional playing days ended he settled in Aurora.
The field sits in Edgerton Park. Harold Edgerton was an MIT professor who is best known for his slow motion and stop action photography. The field is in excellent shape with a well tended grass infield and excellent turf in the outfield. The stands and press box are well maintained and the whole atmosphere is friendly and inviting.
As you walk in you see a glimpse of a super maintained grass infield and an interesting set of grandstands.
Down the right field line is set of bleachers with a unique aluminum roof stucture.

Photos courtesy of Eliza Portrait Design
Photogaphy Studio
The field is currently the home of Aurora Post #42 American Legion Team. The field has hosted numerous American Legion Class B State Championships. In 1949, Aurora won the state championship on this field. They also hosted the championship in 62, 63, 64, 66, 71, 74, 78, 83 and most recently in 1997. Aurora also finished second in class B in 1974.
Mitchell Field combines great baseball history with an excellent field, well kept stands and a friendly atmosphere. It was one of the most enjoyable fields I have encountered.